Superblends Cleanse Matcha 1x4x20 Envelopes F17092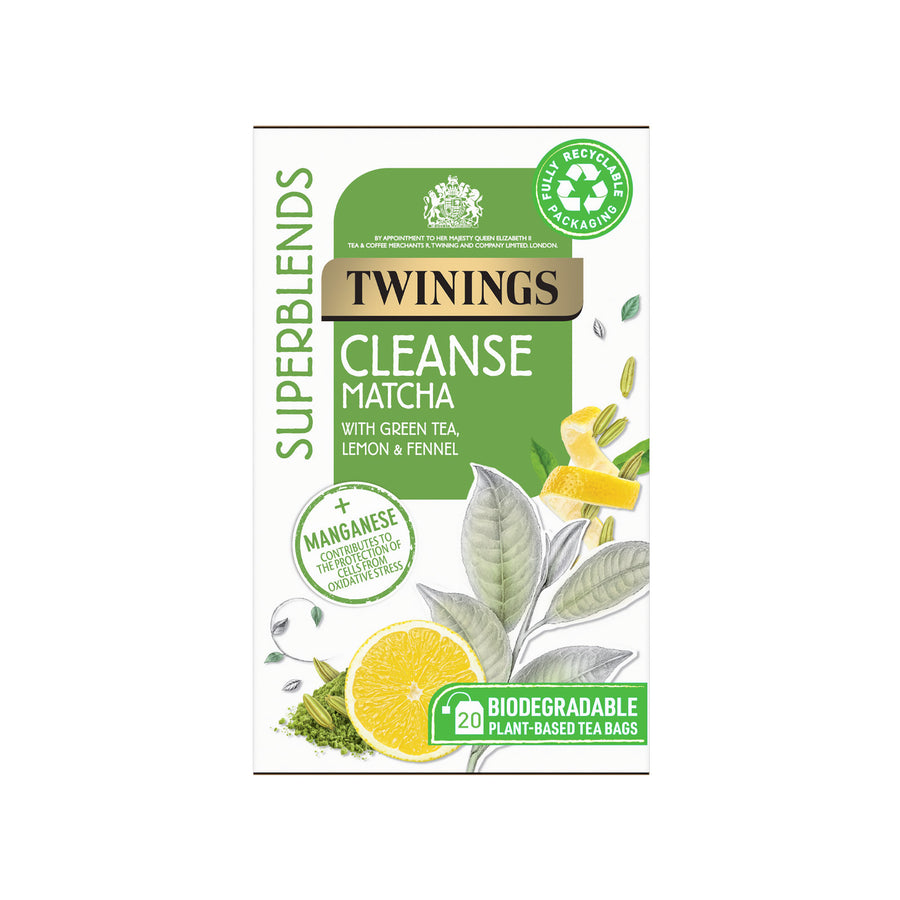 Delivery within 5 working days
Delivery within 5 working days, subject to product availability.
Lemon flavoured Green Tea with Matcha, Fennel and added Manganese
Discover the perfect pick me up when life leaves you feeling heavy. We have over 300 years experience blending teas that taste amazing and make you feel great. Working with our expert herbalist, Pamela Spence, our master blenders have crafted this green tea and matcha blend with a cleansing, citrusy taste, which will leave you feeling refreshed.  Take a moment to clear your mind and enjoy a cup of Cleanse.
What does it taste like?
This balanced blend combines vegetal notes of matcha with sweet fennel seed and fresh citrus notes to deliver a bright fresh blend.
Part of our Superblends range - Our delicious range of benefit-led green teas and infusions, expertly blended with an added botanical, vitamin or mineral to support your everyday wellbeing.
More About This Product
HOW DO I DRINK IT?
Simply use freshly boiled water and infuse the bag for at least 3 minutes. Give the teabag a few little stirs and a gentle squeeze to release the flavour before removing it from the cup.
INGREDIENTS
Green Tea (36%), Fennel Seeds (26%), Matcha (15%), Natural Lemon Flavouring with Other Natural Flavouring (8%) Dandelion Root, Lemon Peel (6%) Manganese.
Suitable for Vegans
NUTRITIONAL INFORMATION
Typical Values Per 100ml Brewed Infusion Per 200ml Serving*
Energy 3 kJ / 1 kcal 7 kJ / 2 kcal
Fat 0g 0g
of which saturates 0g 0g Carbohydrate <0.5g <0.5g of which sugars <0.5g <0.5g
Protein 0g 0g
Salt 0g 0g
Manganese 0.25mg (12.5% of RI**) 0.5mg (25% of RI**)
*Based on an infusion brewed with 200ml hot water for 3 minutes.
**Reference Intake
Manganese contributes to the protection of cells from oxidative stress. Enjoy at least 1 cup a day as part of a varied and balanced diet and healthy lifestyle.