Superblends Balance 4x20 Envelope F16708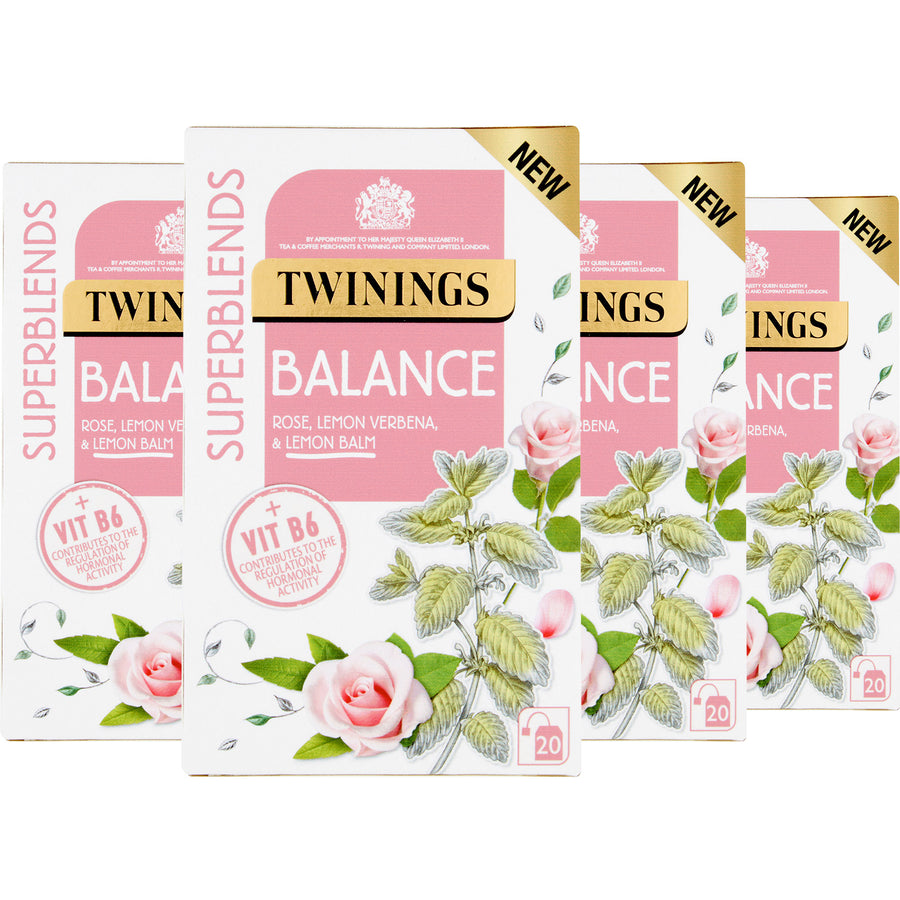 sku F16708
Net Weight 334
Delivery within 5 working days
Delivery within 5 working days, subject to product availability.
Herbal Infusion with Lemon Balm, Lemon Verbena, Rose Petals, Spearmint and added Vitamin B6.
For women everywhere, of all ages, this supportive blend is the perfect balancing act. Take a moment to harmonize body and mind. Enjoy flavours of rose petals, lemon balm and lemon verbena with added Vitamin B6 to support the regulation of hormonal activity.

What does it taste like?
Rose petals and lychee combine beautifully for a sweet, vividly floral blend. Lemon verbena and lemon balm add uplifting herbal notes, balanced with just a hint of creamy, soothing spearmint.
Rose Petals - A time-honoured symbol of love and care, the nurturing aroma and qualities of rose bring beauty and lightness to this exquisite blend.
Lemon Balm - Known as the 'Happy Herb' this citrus scented, vibrant green herb with delicate white flowers is loved by Bees.
Lemon Verbena - The uplifting scent and refreshing taste of Lemon Verbena has made it one of the most popular ingredients in herbal infusions across the world.
Part of our Superblends range - Our delicious range of benefit-led green teas and infusions, expertly blended with an added botanical, vitamin or mineral to support your everyday wellbeing.
More About This Product
INGREDIENTS
Lemon Balm (29%), Lemon Verbena (25%), Spearmint (12%), Apple Pieces, Rose Petals (10%), Beetroot, Lychee Flavouring (4%), Vitamin B6, Natural Flavouring.
NUTRITIONAL INFORMATION
| | | |
| --- | --- | --- |
| Typical Values | Per 100ml Brewed Infusion* | Per 200ml Serving* |
| Energy | 3 kJ / 1 kcal | 7kJ / 2 kcal |
| Fat | 0g | 0g |
| of which saturates | 0g | 0g |
| Carbohydrate | <0.5g | <0.5g |
| of which sugars | <0.5g | <0.5g |
| Protein | 0g | 0g |
| Salt | 0g | 0g |
*Based on an infusion brewed with 200ml hot water for 3 minutes.
HOW DO I DRINK IT?
Simply use freshly boiled water and infuse the bag for at least 3 minutes. Give the teabag a few little stirs and a gentle squeeze to release the flavour before removing it from the cup.