Ovaltine Chocolate Add Water Jar 1x6x300g W551386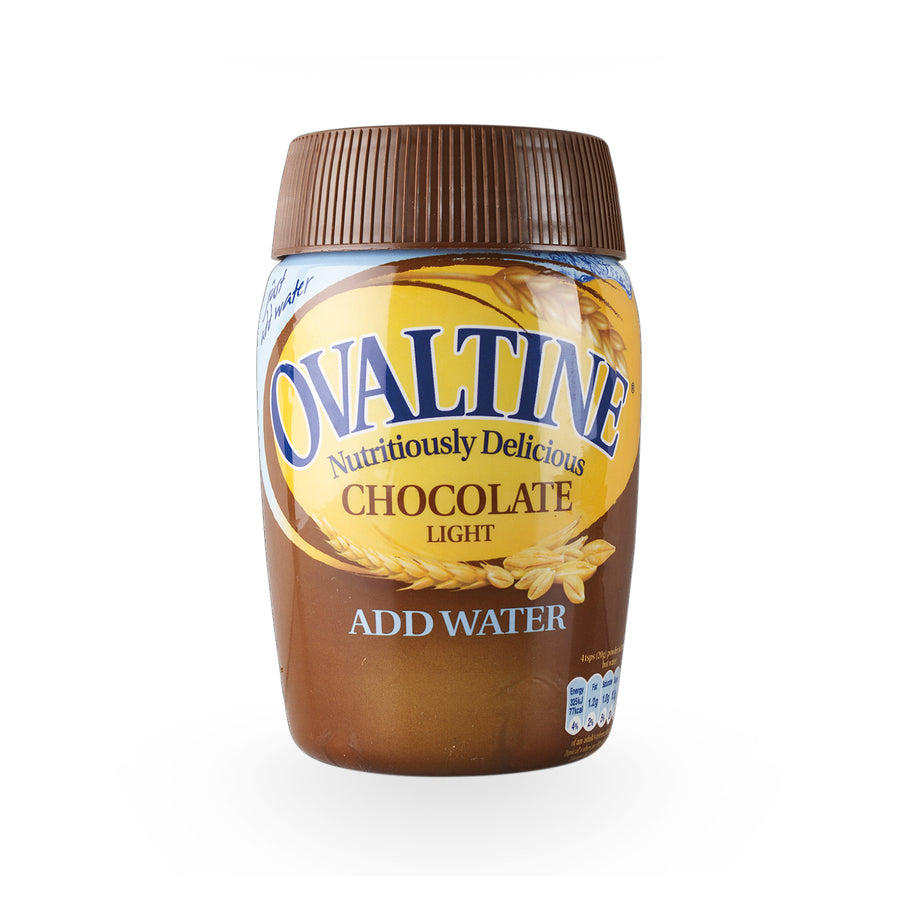 sku W551386
Net Weight 2160
Delivery within 5 working days
Delivery within 5 working days, subject to product availability.
Ovaltine products are not available to customers outside of the UK
Instant low fat chocolate flavoured malted drink with sugars and sweetener.
Made with the wholesome goodness of barley malt & cocoa, Ovaltine's unique recipe contains essential vitamins and minerals.
Source of Iron and Vitamins A, C, B6 & B12, which support the normal function of the immune system.
Ovaltine light - contains at least 30% less fat than standard malted drinks.
More About This Product
DIRECTIONS
Store in a cool, dry place.
For best results put 4 teaspoons of Ovaltine Chocolate in a mug and add hot water (200ml).
Enjoy as part of a balanced diet and healthy lifestyle.
NUTRITIONAL INFORMATION
Typical values per 100g per serving* % RI** Energy 1623 kJ 325 kJ 4
384 kcal 77 kcal 4 Fat 5.9g 1.2g 2 of which saturates 5.2g 1.0g 5 Carbohydrate 73.0g 14.6g 6 of which sugars 52.4g 10.5g 12 Fibre 4.7g 0.9g Protein 7.4g 1.5g 3 Salt 1.6g 0.3g 5 Vitamins per 100g % RI** per serving* % RI** Vitamin A 800.0ug 100 160.0ug 20 Vitamin E 12.0mg 100 2.4mg 20 Vitamin C 80.0mg 100 16.0mg 20 Thiamin (B1) 1.1mg 100 0.2mg 20 Riboflavin (B2) 1.4mg 100 0.3mg 20 Niacin 16.0mg 100 3.2mg 20 Vitamin B6 1.4mg 100 0.3mg 20 Folic acid 200.0ug 100 40.0ug 20 Vitamin B12 2.5ug 100 0.5ug 20 Biotin 50.0ug 100 10.0ug 20 Pantothenic acid 6.0mg 100 1.2mg 20 Minerals per 100g % RI** per serving* % RI** Calcium 1000.0mg 125 200.0mg 25 Iron 14.0mg 100 2.8mg 20 Zinc 12.5mg 125 2.5mg 25 *20g powder in 200ml hot water
**RI = Reference Intake; Reference intake of an average adult (8400kJ/2000kcal)
INGREDIENTS
Whey powder (MILK), BARLEY malt extract (21%), MILK serum concentrate, sugar, fat-reduced cocoa powder (7.5%), glucose syrup, vegetable oil (palm, coconut and rapeseed), minerals (calcium, iron, zinc), skimmed MILK powder, salt, thickener (E415), stabilisers (E452, E340, E341), magnesium carbonate, MILK proteins, vitamins (C, E, niacin, A, pantothenic acid, B12, B6, B2, B1, folic acid, biotin), sweetener (acesulfame K), emulsifier (E471), anti-caking agent (E551), flavouring.
For allergens please see ingredients in BOLD.
This pack contains 15 servings.