Superblends Metabolism 4x20 Envelope F16707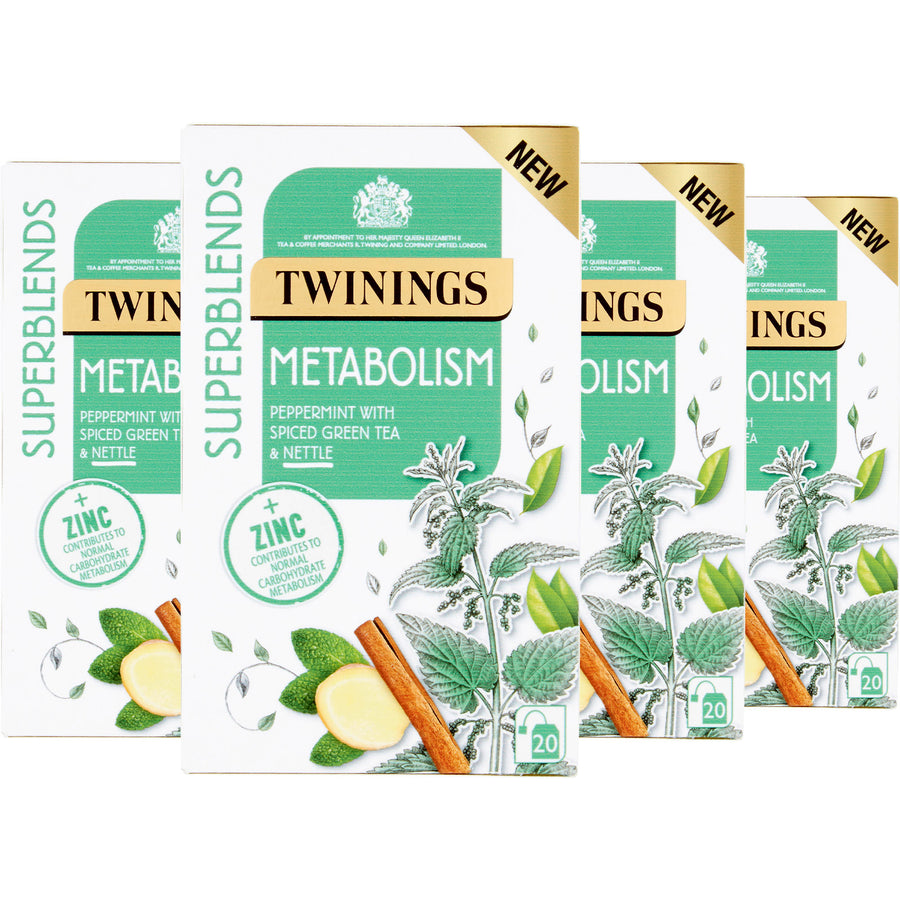 sku F16707
Net Weight 366
Delivery within 5 working days
Delivery within 5 working days, subject to product availability.
Peppermint flavoured Herbal Infusion with Spiced Green Tea, Nettle and added Zinc.
Let your body do its thing! Our bright and breezy blend of green tea, peppermint and nettle is inspired by feeling confident and energised. We've added Zinc too, which contributes to your normal carbohydrate metabolism.
What does it taste like?
Lightly spiced green tea gets a lift with fresh tasting peppermint while nettle adds a subtle depth of flavour - all blended with a hint of sweetness for a clean-tasting, invigorating cup.
Nettle - Nettle is a popular and versatile herb that is widely used in food and drink. It has a smooth and subtle taste and was traditionally foraged as one of the earliest wild greens.
Green Tea - Our crisp green leaves start their journey in dewy, misty tea gardens and are gently pan fried to create the delicious taste that we know and love.
Peppermint - Peppermint is a bright and uplifting herb that is much-loved due to its invigorating and refreshing taste, making it a perfect pick-me-up for anytime of the day.
Part of our Superblends range - Our delicious range of benefit-led green teas and infusions, expertly blended with an added botanical, vitamin or mineral to support your everyday wellbeing.
More About This Product
INGREDIENTS
Green Tea (36%), Peppermint (36%), Nettle (8%), Ginger Root (5%), Natural Peppermint Flavouring (5%), Natural Flavourings, Cinnamon Bark (3%), Zinc.
NUTRITIONAL INFORMATION
| | | |
| --- | --- | --- |
| Typical Values | Per 100ml Brewed Infusion* | Per 200ml Serving* |
| Energy | 3 kJ / 1 kcal | 7kJ / 2 kcal |
| Fat | 0g | 0g |
| of which saturates | 0g | 0g |
| Carbohydrate | <0.5g | <0.5g |
| of which sugars | <0.5g | <0.5g |
| Protein | 0g | 0g |
| Salt | 0g | 0g |
*Based on an infusion brewed with 200ml hot water for 3 minutes.
HOW DO I DRINK IT?
Simply use freshly boiled water and infuse the bag for at least 3 minutes. Give the teabag a few little stirs and a gentle squeeze to release the flavour before removing it from the cup.