Cold In'fuse Rose Lemonade 1x6x12x2.5g F16432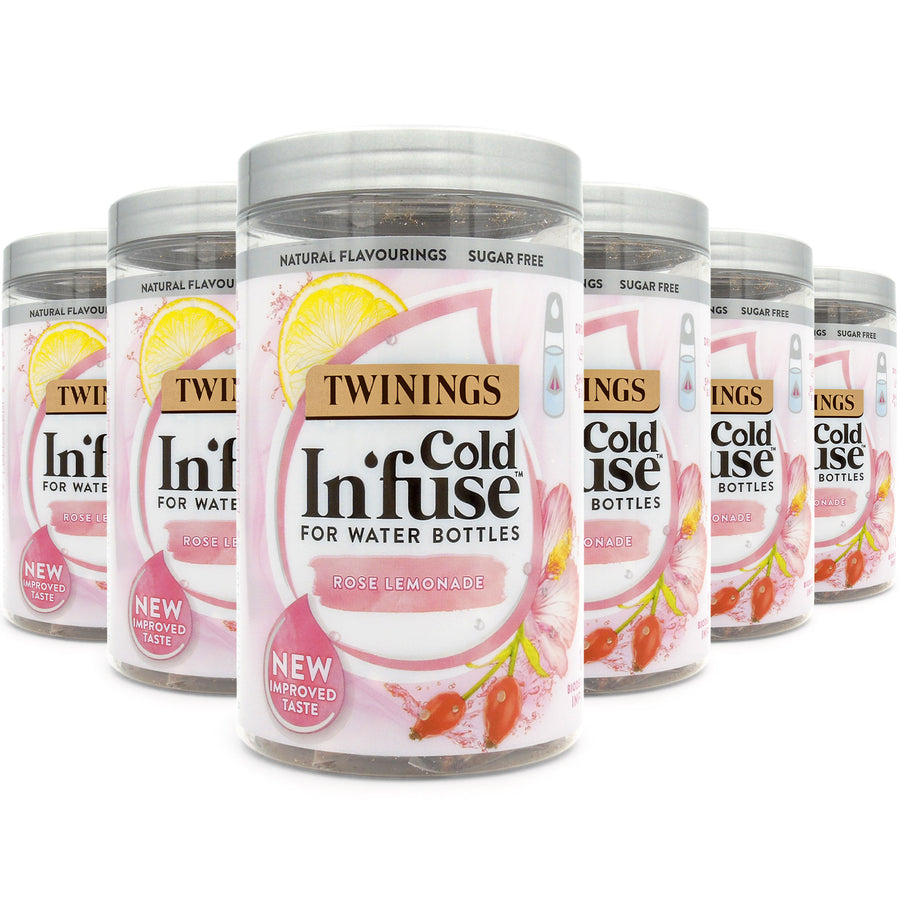 sku F16432
Net Weight 600
Delivery within 5 working days
Delivery within 5 working days, subject to product availability.
Hibiscus cold brew tea flavoured with natural rose and lemon.

If you like rose lemonade, then you'll love our Rose Lemonade flavoured cold infusions! Made using hibiscus and designed to be brewed in cold water, Twinings Cold Infuse is the perfect sugar-free alternative to your favourite fizzy drinks.

Give your water the fantastic flavour of Rose Lemonade without any of the sugar. Designed to drop into your reusable water bottle, our Cold Infuse are the perfect aid to helping you drink more water throughout the day, wherever you are. Simply drop, leave, shake & enjoy!

Why not try adding our Rose Lemonade to sparkling water with a slice of fresh lemon? Perfect for staying hydrated on a hot summer's day.
More About This Product
INGREDIENTS
Apple Pieces*, Hibiscus* (19%), Rosehips* (18%), Natural Lemon Flavouring (18%), Beetroot*, Orange Peel*, Natural Flavouring, Acid: Citric Acid, Sweetener: Steviol Glycosides, Rose Flavouring (2%)
*These herbal ingredients are specially heat treated to make them our first ever infuser safe to drop into cold water.
NUTRITIONAL INFORMATION
| | |
| --- | --- |
| Typical Values | Per 100ml Brewed Infusion** |
| Energy | 7 kJ / 2 kcal |
| Fat | 0g |
| of which saturates | 0g |
| Carbohydrate | 0g |
| of which sugars | 0g |
| Protein | 0g |
| Salt | 0.01g |
**Based on an infuser brewed in 500ml cold water.
HOW DO I DRINK IT?
It couldn't be simpler to bring a hint of fruity flavour to your plain old water in 3 super simple steps.
Drop one of our little infusion bags into your water bottle (500ml).
Wait 5 minutes and watch it swirl. Don't forget to shake, shake, shake it!
Top tip: the longer you brew, the fuller the flavour. Just steep the bag and consume within 8 hours, perfect when you're on the go!
Easy-peasy, huh? And remember to keep that water bottle squeaky clean after each use.