Cold Infuse Metabolism 1x6x12 F15870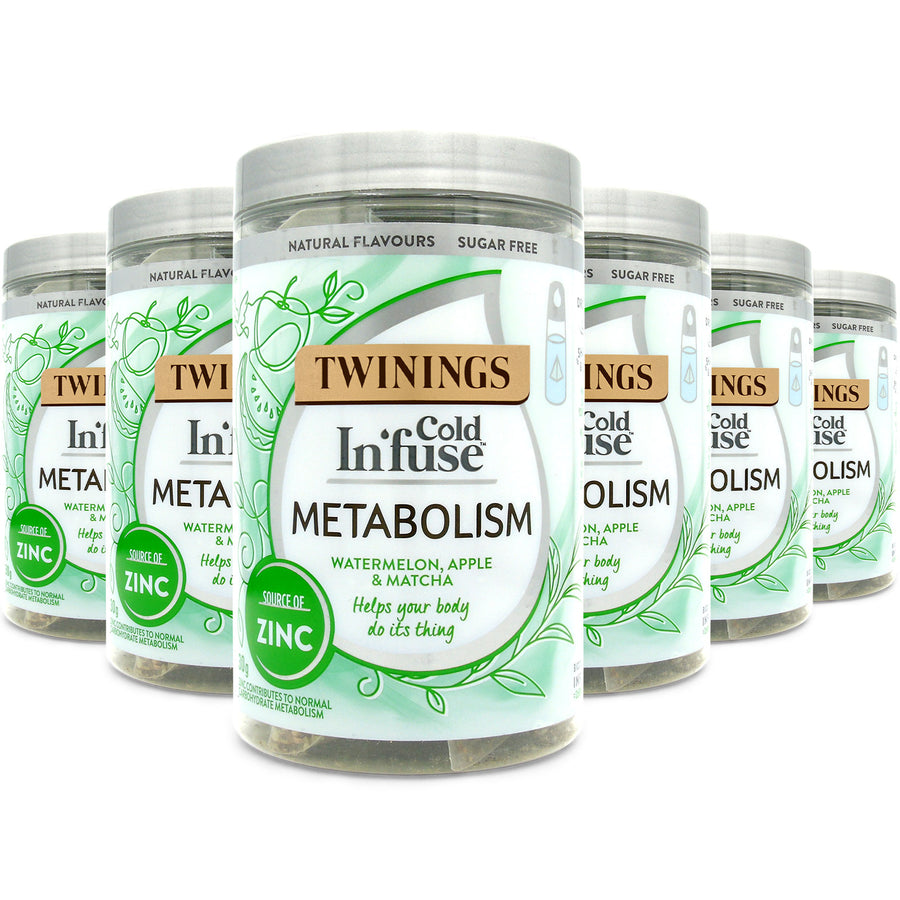 sku F15870
Net Weight 600
Delivery within 5 working days
Delivery within 5 working days, subject to product availability.
Watermelon & Apple flavoured cold water infusion with Matcha, Green Tea, Stevia Leaves and added Zinc.
Look at you go, little bundle of energy. Metabolism helps your body to do its thing. Zero sweat required.

It's a tasty watermelon and apple flavoured cold-water infusion, with matcha, green tea and stevia leaves for an added va-va-voom. Just 1 infuser contains 15% of your recommended daily intake of Zinc. Not bad, eh?
More About This Product
INGREDIENTS
Green Tea* (38%), White Hibiscus* Natural Watermelon Flavouring with other Natural Flavourings (15%), Natural Apple Flavouring with other Natural Flavourings (15%), Zinc, Stevia Leaves* (5%), Natural Flavouring, Matcha Granules (2.5%).
*These herbal ingredients are specially heat treated to make them safe to drop into cold water.
NUTRITIONAL INFORMATION
Typical values
Per 100ml brewed Infusion*
Per 500ml serving**
Energy
7 kJ / 2 kcal
37 kJ / 9 kcal
Fat
<0.5 g
1.0 g
of which saturates
<0.1 g
0.5 g
Carbohydrate
0 g
0 g
of which sugars
0 g
0 g
Protein
0 g
0 g
Salt
0.01 g
0.07 g
Zinc
0.3 mg
(3 % of RI**)
1.5 mg
(15 % of RI**)
* Based on an infuser brewed in 500ml cold water.
** Reference Intake.
HOW DO I DRINK IT?
It couldn't be simpler – just Drop, Leave, Shake & Enjoy
Drop 1 infuser in your water bottle (500ml)
Wait for 5 minutes, shaking occasionally
Leave infuser in and enjoy.
After trying, add more water to taste, but once prepared, please consume within 8 hours.