Adaptogens Clarity 1x4x18 F16506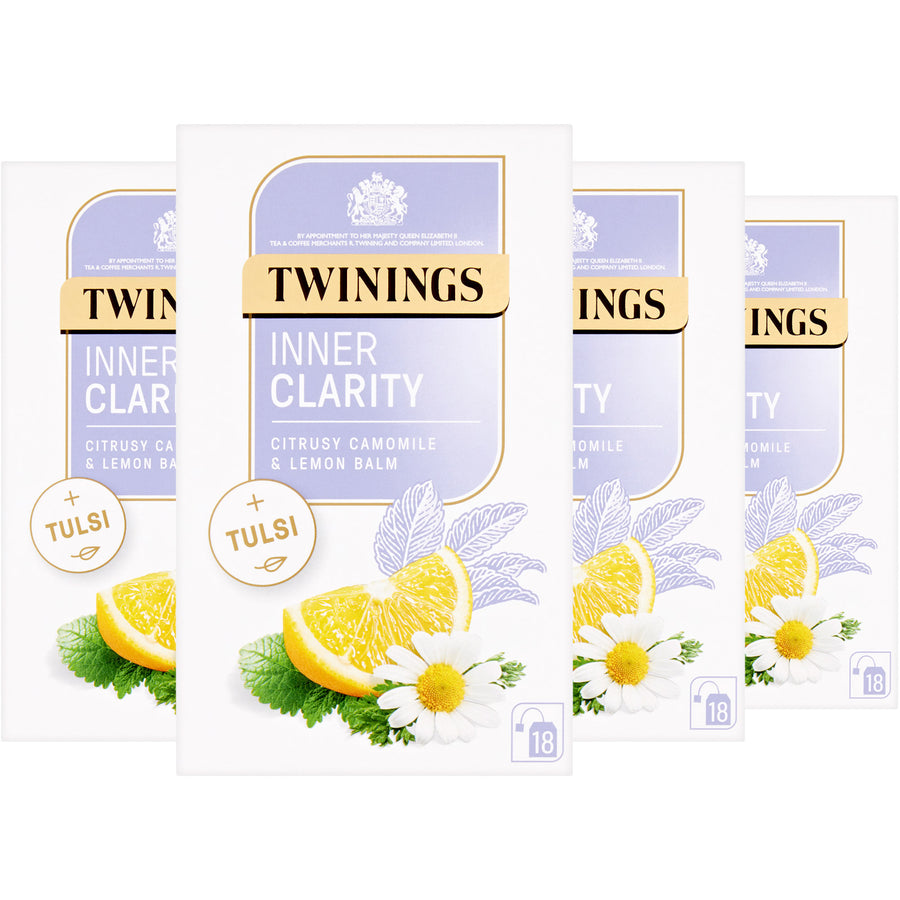 sku F16506
Net Weight 320
Delivery within 5 working days
Delivery within 5 working days, subject to product availability.
Lemon Flavoured Herbal Infusion with Camomile, Lemon Balm and Tulsi.

You can't pour from an empty pot. So, when you're feeling under pressure and life is wearing you down. Stop. Breathe. Be present.
Enjoy this tranquil blend daily as the perfect partner to your mindful moment.

Inner clarity, in a cup, for all those busy bods out there. When you've got too much on your shoulders, and it's weighing you down, take a moment to let Tulsi's rich minty flavours lift your spirits. We've added a subtle little citrusy boost from Lemon Balm too.

What is Tulsi?
Referred to as a sacred plant in Hindu belief. In India, Tulsi (also known as Holy Basil) is a good friend in many a kitchen cupboards with its minty flavour and a hint of aniseed.

This blend is perfect for a tranquil moment and is naturally caffeine free.
More About This Product
INGREDIENTS
Camomile* (55%), Lemon Balm* (15%), Tulsi* (8%), Natural Lemon Flavouring with Other Natural Flavourings (7%), Lemon Peel* (5%), Elderflower*, Natural Lemongrass Flavouring, Natural Flavouring.
*All our herbs are gently steamed, the process is gentle to protect their delicate taste.
NUTRITIONAL INFORMATION
| | |
| --- | --- |
| Typical Values | Per 100ml Brewed Infusion** |
| Energy | 10 kJ / 2kcal |
| Fat | 0g |
| of which saturates | 0g |
| Carbohydrate | 0g |
| of which sugars | 0g |
| Protein | 0g |
| Salt | 0.01g |
**Based on an infusion brewed with 200ml water for 3 minutes.
This product contains 18 servings
HOW DO I DRINK IT?
Time is your best friend when it comes to the perfect tea. We suggest using freshly boiled water and infuse the bag for at least 3 minutes to release the full flavour.