Cold Infuse And Breathe 1x6x12 F15872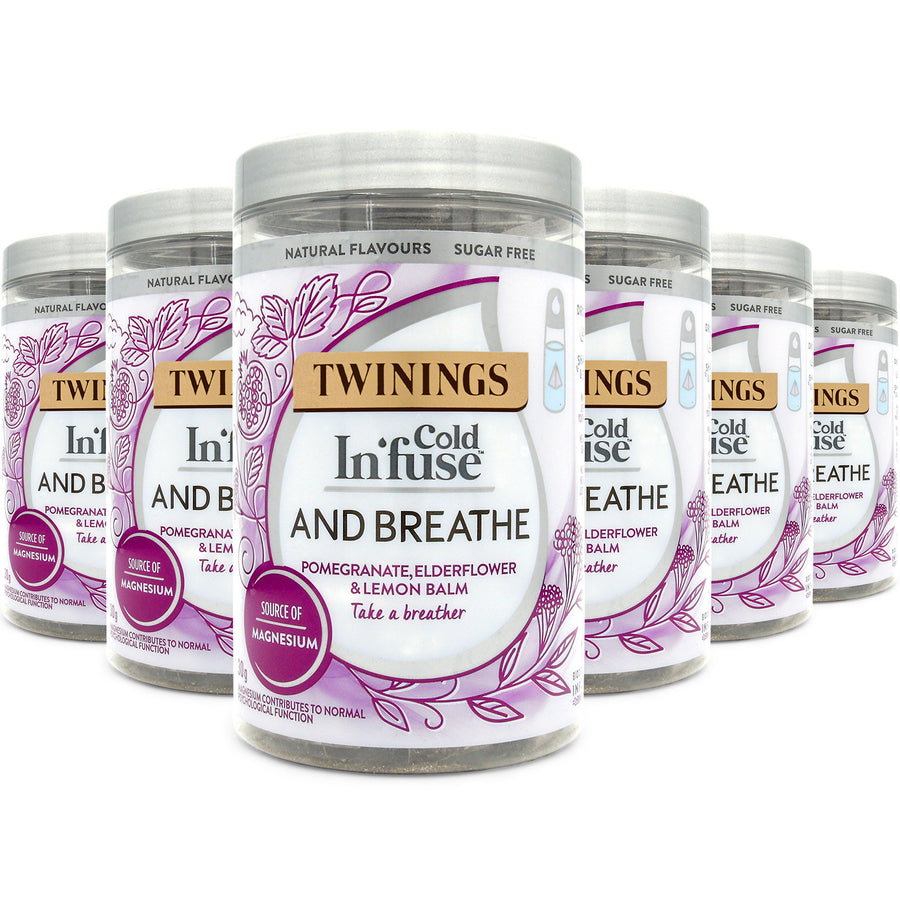 sku F15872
Net Weight 600
Delivery within 5 working days
Delivery within 5 working days, subject to product availability.
Pomegranate & Elderflower flavour cold water infusion with Lemon Balm and added Magnesium.
Sometimes we just need to take a breather. Pause with a delicious pomegranate and elderflower flavoured cold-water infusion with added lemon balm.

Brimming with herbs and natural fruit flavours, our infusion bags help you to stay on your A-game. Just 1 infuser is equivalent to 15% of your recommended daily intake of Magnesium. Not bad, eh?
More About This Product
INGREDIENTS
Lemon Balm* (49%), Magnesium, Natural Pomegranate Flavouring with other Flavourings (15%), Natural Elderflower Flavouring with other Natural Flavourings (8%), Beetroot*, Natural Flavouring.
*These herbal ingredients are specially heat treated to make them safe to drop into cold water.
NUTRITIONAL INFORMATION
Typical values
Per 100ml brewed Infusion*
Per 500ml serving**
Energy
7 kJ / 2 kcal
37 kJ / 9 kcal
Fat
<0.5 g
1.0 g
of which saturates
<0.1 g
0.6 g
Carbohydrate
0 g
0 g
of which sugars
0 g
0 g
Protein
0 g
0 g
Salt
0.01 g
0.07 g
Magnesium
11.3 mg
(3 % of RI**)
56.3 mg
(15 % of RI**)
* Based on an infuser brewed in 500ml cold water.
** Reference Intake.
HOW DO I DRINK IT?
It couldn't be simpler – just Drop, Leave, Shake & Enjoy
Drop 1 infuser in your water bottle (500ml)
Wait for 5 minutes, shaking occasionally
Leave infuser in and enjoy.
After trying, add more water to taste, but once prepared, please consume within 8 hours.